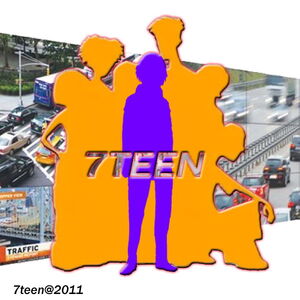 7teen is the sequel series from 6teen.
This Role playing game is same like Digital devil saga and persona 4. Songs from Persona 3&4,SMT Nocturne & Kingdom Hearts 1&2.The music by Lil wayne and Shanell who sang the theme song "Runnin" and for The Animated by Manafest who sang the theme song "No Plan B" along with Koie from Japanese Metal Band,Crossfaith. Also Scott spencer is the voice Michael Cera from Scott pilgrim vs the world.
See also: List of 7teen Characters
Main CharactersEdit
A Years later in Canada, Jonesy and the Gang decide to replace nikki. A Teenage guy name Scott Spencer is Transfer Student from America. He is move to Canada to meet his aunt because his parents busy. Suddenly, He something about this world happen. Scott saw shadow creature to attack him. But, he defeat it. So Scott and his friends are ready to battle until The Dark Rage will invading for the next 365 days.
See also:List of 7teen Original Soundtracks
7Teen the animationEdit
Main article: List of 7Teen the Animation Episodes
The series takes place a year after 6teen.
Unlike the first series, 7teen is add 3 new genres are dark fantasy,horror-action and adventure