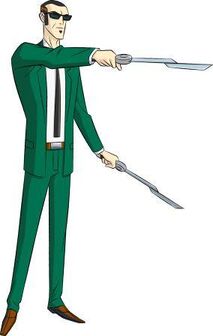 Agent Six
, or simply known as
Six
, is an agent of
Providence
and
Rex's
handler. His name comes from the fact that he is the sixth most dangerous man on the planet.
[1]
Due to Six's strict by-the-book personality, Rex goes as far as to refer to him as a "nanny, just more aggro".
[2]
Name: Unknown (Agent Six)
Age: Unknown
Gender: Male
Occupation(s): Providence Headquarters,The Six (Formerly)
Abilities: Swordsmanship,Skilled Martial artis
Relatives: N/A
Allies: Rex Salazar, Bobo Haha, Rebecca Holiday, Noah Nixon, One, Dos, Trey, Five, White Knight,more...
First Appearance: The Day That Everything Changed
Theme: Interpol-obstacle 1
See Also: Agent Six
Appearance
Edit
Ad blocker interference detected!
Wikia is a free-to-use site that makes money from advertising. We have a modified experience for viewers using ad blockers

Wikia is not accessible if you've made further modifications. Remove the custom ad blocker rule(s) and the page will load as expected.