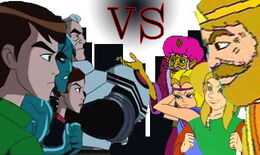 Bellwood vs Hyrule is Crossover fighting games. The games are Ben 10 series and CD-I Link/Zelda game. From creator of Marvel vs Capcom 3/Street Fighter X Tekken and second-creator of TGWTG Anniversary 2009 Brawl.
Their are two town between Bellwood and Hyrule.Team Bellwood are Ben,Gwen,Kevin and etc. Team Hyrule are The King,Link,Zelda & etc.
Characters
Edit
Playable Characters
Ad blocker interference detected!
Wikia is a free-to-use site that makes money from advertising. We have a modified experience for viewers using ad blockers

Wikia is not accessible if you've made further modifications. Remove the custom ad blocker rule(s) and the page will load as expected.