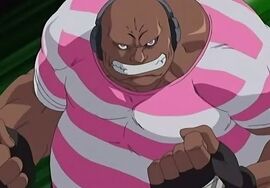 Mihotoke Issa
, a.k.a. "Fats Buccha", Black Pig, (Fatty in anime)
Buccha
is a heavily-built, tanned fighter specializing in close combat. His character design is based off the wrestler Abdullah, which is referenced by the three lines on his forehead. Before joining
Kogarasumaru
, he was the leader of the team
Night Kings
(
Yaou
).
Background
Edit
Buccha originally appeared in the series as a villain: the leader of the Night Kings, he dominated Higachu High School by night. After losing against
Ikki
in a Hurdlesmatch,he turns into a stalwart ally of Ikki and becomes a founding member of Kogarasumaru. Currently, he is fighting with
Orca
in the main ballast tank of the aircraft carrier. Buccha's father is a Buddhist monk, and he is currently dating the sister of Mr. Orihaya.
Appearances
Edit