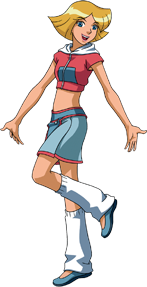 Clover is a main character in the Totally Spies! universe. She has medium length blond hair, blue eyes and a red catsuit when she's a spy.
Name: Clover
Age: 16 -17
Gender:Female
Occupation(s: High school student (done),WHOOP (Super Spy),Collage Student (Currently)
Abilities: Spies & Thermokinesis Weapon:Cryokinesis & Pyrokinesis
Relatives: Stella (Mother),Blame (Boyfriend/Husband until Death),Kyle (Future Son),Brian griffin (Possibly 2nd Husband)
Allies: Sam (BFF),Alex (BFF),Gwen (LL;Alternate Reality Wife),Rachel (Teammate),Lily (AcrhRival),more...
First Appearance: A Thing For Musicians (Totally spies)
Theme:

Personality
Edit
Clover likes to flirt with any cute boys she sees that captures her eye. She is the not as understanding as Sam is, but she is smart enough to take the bad guys down and to wear fashionable outfits at the same time. Clover is a very pretty, flirty, and fashionable girl. She is always a helping hand to her friends. She is also rather spunky in this regard, as this is what attracts her to an unnamed dark knight who chose her as his queen, but she ultimately turned him down.
Appearances
Edit
Alternate Reality version
Family Guy: Fuck the Leashed (as Juno Eclipse)
Family Guy: Fuck the Leashed 2 (as Juno Eclipse)
Battle Sisters The Sexy Zombie Hunters (as Kat Anna)
Relationships
Edit
Sam - Best friend,(Sometimes rival)
Alex - Best friend
Gwen Tennyson - Lesbian Relationship
Brian Griffin
Blame