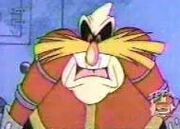 Dr. Ivo Robotnik (not to be confused with his Dr. Eggman) is the villain and Antagonist in The Adventures of Sonic the Hedgehog series. He always wanted to destroy sonic and conquer the world. He has 3 followers: Scratch, Grounder, and Coconuts. But he thinks they are useless.
Personality
Edit
Robotnik lives in his fortress/laboratory with his three three followers. It is on the top of a hill, and is decorated with a golden statue of him.
Appearance
Edit
Relationship
Edit
Ad blocker interference detected!
Wikia is a free-to-use site that makes money from advertising. We have a modified experience for viewers using ad blockers

Wikia is not accessible if you've made further modifications. Remove the custom ad blocker rule(s) and the page will load as expected.