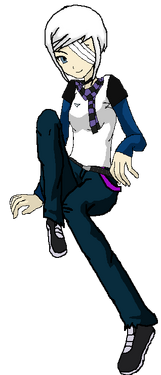 Fromy Ska is a Daughter of Stocking and TomSka and Granddaughter of Frollo and Lula.
Personalty
Edit
Abilities
Edit
Appearance
Edit
Relationship
Edit
Stocking (Mother)
Tom Ska (Father)
Frollo (GrandFather)
Lula (GrandMother)
Panty (Aunt)
Ebony the Dog (Pet)
Corey LeGumme (Later Love Interest)
Buki Tennyson
Samuel Kurosaki
Daniel Minami
Gee-1
Ad blocker interference detected!
Wikia is a free-to-use site that makes money from advertising. We have a modified experience for viewers using ad blockers

Wikia is not accessible if you've made further modifications. Remove the custom ad blocker rule(s) and the page will load as expected.