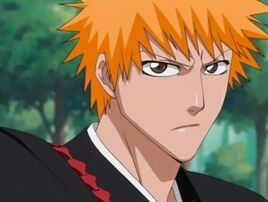 Ichigo Kurosaki (黒崎 一護, Kurosaki Ichigo) is a Human who has Shinigami powers. He is the son of Isshin and Masaki Kurosaki, and older brother of Karin and Yuzu. He is the main protagonist of the Bleach series.

Name: Ichigo Kurosaki
Age:15-17
Gender: Male
Occupation(s): High School Student, Errand Boy of the Unagiya Shop
Abilities: Shinigami powers and Abilities,Natural Abilities, Zanpakutō
Relatives: Isshin (Father),Masaki (Mother,deceased),Karin & Yuzu (Younger sisters)
Allies: Chad (Best friend/Partner),Rukia,Inoue,Ishida (Frinemy),Sam (Ex.Girlfriend),more...
First Appearance: The Day I Became a Shinigami (Bleach)
Theme:
See Also: Ichigo Kurosaki
Appearance
Edit
Alternate Reality version
FRF Power Rangers AniCards (as Brad Phoenix)
Zombie Revolution (as Fred Bradson)
Zombie Revolution: blood Hound (as Ichiga kumaruka (female Version))
Relationships
Edit
Samantha Simpson - Ichigo's (Ex) Girlfriend
Yasutora Sado - Ichigo's Best friend
Rukia Kuchiki -
Orihime Inoue -
Ad blocker interference detected!
Wikia is a free-to-use site that makes money from advertising. We have a modified experience for viewers using ad blockers

Wikia is not accessible if you've made further modifications. Remove the custom ad blocker rule(s) and the page will load as expected.