John Team vs ILAR Team

Platform(s)

PlayStation 3 & Xbox 360

Genre(s)

Fighting

Rating(s)

M for Mature

Developer(s)

The John Studios, I0LOVE0AMY0ROSE
John Team vs ILAR Team is a Fighting Game released in March 28, 2013
TBA
Similar to SNK vs Capcom: SVC Chaos & like SFXT, you have to battle Rivals, Mini Bosses & Bosses, if you pick a character from John Team/ILAR Team you will fight a rival from ILAR Team/John Team.
Characters
Edit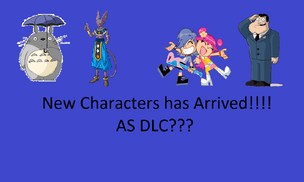 Starter (John Team)
Edit
John
Robo
Cosmo the Seedrian
Jokerkoopa
Amalia
Goku
Clementj642
Mordecai & Rigby
Ryu
Chun-Li
Unlockable (John Team)
Edit
Rosie
Kay The Bodyguard
Ken
Vegeta
Pops
Skips
Gallade
Ugo the Italian Guy
Frieza
Smithy
Akuma (Secret Character)
DLC (John Team)
Edit
Totoro (My Neighboor Totoro)
Bills (DBZ: Battle of Gods)
Special Combo (John Team)
Edit
John - Ultra Buster, Final Nerd
Robo - Big Missiles, Explosive Wave
Cosmo - Transformation, Planet Egg
Jokerkoopa - Maniac Laugh, Super Joker Bomb
Amalia - Plant Attack, Tornado Vine
Goku - Meteor Combination, Super Kamehameha
Clementj642 - This Game is Terrible!, Banana Shot
Mordecai & Rigby - Punchies & Brain Max, Cart Attack
Ryu - Shinku Hadoken, Shinku Hurricane Kick
Chun-Li - Super Lighting Kick, Hazan Tenshou Kyaku
Rosie - Valentine Chocolate, Slap the Guy/Gal!
Kay - Muscle Power, Laser Ray
Ken - Shoryueppa, Shippu Jinraikyaku
Vegeta - Big Bang Attack, Amazing Impact
Pops - You want some candy?, Bed Fall
Skips - Bowl Attack, Kamehameha
Gallade - Leaf Blade, Psychic
Ugo - Devil Teddy Bear, Continuous Laser Ray
Frieza - Death Beam, Homing Destructo Disk
Smithy - Mouth Laser, Flaming Hammer
Akuma - Messatsu Gohadoken, Messatsu Goshoryuken
Totoro - Umbrella Flight
Bills - Wrath of the God of Destruction, Pressure Point Attack
Ultimate Combo (John Team)
Edit
John - Ultimate Armor
Robo - Ultimate Robo
Cosmo - Super Kamehameha
Jokerkoopa - Ultra Joker Bomb
Amalia - Final Plant
Goku - Spirit Bomb
Clementj642 - Call the Egg Fleet!
Mordecai & Rigby - Fusion
Ryu - Shin Shoryuken
Chun-Li - Kikosho
Rosie - Sexy Hot Love
Kay - Call the police
Ken - Shinryuken
Vegeta - Final Flash
Pops - Do you wanna take a ride?
Skips - Fists of Justice
Gallade - Close Combat
Ugo - Transformation
Frieza - You Will Die By My Hand!
Smithy - Final Smithy
Akuma - Shun Goku Satsu
Totoro - Big Roar
Bills - God of Destruction Super Energy Sphere
Voice Actors (John Team)
Edit
John - Himself, Jokerkoopa
Dee Brandley Baker - Robo, Kay (With a German Accent)
Tara Strong - Cosmo, Rosie
Adeline Chetail - Amalia
Sean Schemmel - Goku
Jamie Clement - Himself
J. G Quintel - Mordecai
William Salyers - Rigby
Hiroki Takahashi - Ryu
Fumiko Orikasa - Chun-li
Reuben Langdon - Ken
Christopher Sabat - Vegeta
Sam Marin - Pops
Mark Hamill - Skips
Katsuyuki Konishi - Gallade
GoAnimate! voice Brian - Ugo the Italian
Chris Ayres - Frieza
Mugihito - Smithy
Taketora - Akuma
Hitoshi Takagi - Totoro
Kōichi Yamadera - Bills
Starter (ILAR Team)
Edit
Amy Rose
Gaston
Mabel
Master Shake
Margaret & Eileen
Pan
60's Spiderman
Pinkie Pie
Flame Princess
Toon Mask
Unlockable (ILAR Team)
Edit
Captain Ginyu
Meatward
Isabella
Jake's Puppies
Android 17
Rainbow Dash
Angry Joe
Ebony the Hedgehuman
Drumotron VI
Frollo
True Ogre (Secret Character)
DLC (ILAR Team)
Edit
Special Combo (ILAR Team)
Edit
Amy Rose - Big Hammer, Big Hammer Spin
Gaston - Chair Fall, Super Shotgun
Mabel - Pig Attack, Hehehe!
Master Shake - Credit Bomb, Super Dance Spin
Margaret & Eileen - Fist Pump Shirt Throw, Eileen with no Glasses
Pan - Kamehameha, Maiden's Rage
60's Spiderman - Spider Bomb, Maxinum Spider
Pinkie Pie - Angry Pinkie, Cupcake Pinkie
Flame Princess - Continuous Flaming Disk, Continuous Fireball attack
Toon Mask - Crazy Car Attack, Run like a maniac
Captain Ginyu - Galaxy Dynamite, Ginyu Strike
Meatward - Transformation
Isabella - Unicorn Ride
Jake's Puppies - Continuous Rainbow Beam
Android 17 - Photon Flash, Now We're Playing for Keeps!
Rainbow Dash - Rainbownado, Sonic Drill
Angry Joe - FUCKING ASS Attack, Eletric Shock
Ebony the Hedgehuman - Giant Hammer, Giant Hammer Spin
Drumotron VI - Tentacle Attack
Frollo - Super Fireball, Fire Spin
True Ogre - Super Flamethrower
Ami & Yumi - Super Guitar Attack, Super Drum Shock
Stan Smith - Shotgun, Machine Gun
Ultimate Combo (ILAR Team)
Edit
Amy Rose - Super Amy
Gaston - Kill the Beast!
Mabel - Gideon Throw
Master Shake - Juice
Margaret & Eileen - The Guardian of Margaret's Diary
Pan - Reliable Friend
60's Spiderman - The Meme Marathon Attack
Pinkie Pie - Pinkie's Dance
Flame Princess - Super Saiyan Flame Princess
Toon Mask - The Mask's Dance
Captain Ginyu - The Ginyu Force Attack
Meatward - Robot Suit
Isabella - Cutness Attack
Jake's Puppies - Rainbow Tornado
Android 17 - Accel Dance
Rainbow Dash - Sonic Rainboom
Angry Joe - Red Lantern Joe
Ebony the Hedgehuman - Super Ebony
Drumotron VI - Super Drumotron VI
Frollo - HELLFIRE!!!
True Ogre - Hell Inferno
Ami & Yumi - Puffy Jam Season
Stan Smith - Killer Hot Tub
Voice Actors (ILAR Team)
Edit
Cindy Robinson - Amy Rose, Ebony
Richard White - Gaston
Kristen Schaal - Mabel
Dana Snyder - Master Shake
Janie Haddad - Margaret
Minty Lewis - Eileen
Kate Bristol - Pan
Drake Bell - 60's Spiderman
Andrea Libman - Pinkie Pie
Jessica Di Ciccio - Flame Princess
Scott McNeil - Toon Mask
Robert Bruce Elliott - Captain Ginyu
Dave Willis - Meatwad
John Team
Edit
TBA
ILAR Team
Edit
TBA
TBA
This is the first time C1 & ILAR works Together.
& Also the first time to have Bills from DBZ: Battle of Gods introduced in this game.
Ad blocker interference detected!
Wikia is a free-to-use site that makes money from advertising. We have a modified experience for viewers using ad blockers

Wikia is not accessible if you've made further modifications. Remove the custom ad blocker rule(s) and the page will load as expected.