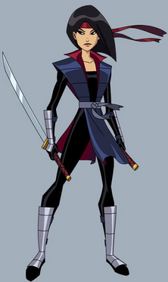 Karai is a member and leader of the Foot Clan Japanese branch
Name: Karai
Age: Unknown
Gender: Female
Occupation(s): Foot Clan
Abilities: Ninjitsu
Relatives: Ultron Shredder (Adoptive Father)
Allies: Leo (LoverFriend),Raphael,Don,Mikey,more..
First Appearance: City at War (Part 1) (TMNT'03)
Theme:

See also: Karai
Appearance
Edit
Relationship
Edit
Leonardo ('03) - Between Love and Rival
Ultron Shredder (Formerly) - her father until Betrayed
Ad blocker interference detected!
Wikia is a free-to-use site that makes money from advertising. We have a modified experience for viewers using ad blockers

Wikia is not accessible if you've made further modifications. Remove the custom ad blocker rule(s) and the page will load as expected.