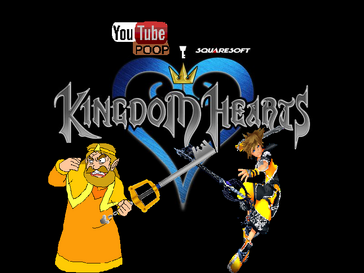 This game is fuse off Youtube Poops and Kingdom Hearths.
Playable Characters:
Edit
Sora
Link
King Harkinian (Harkinian mode)
Duke Onkled (Harkinian mode)
Party members
Edit
Hyrule's Castle
Bikini Bottom
Green Hill Zone
Mushroom Kingdom
Vulcano island
Pingas City
Book Maze for Worms
Hollow Bastion
Recurring Characters
Edit
Spongebob
Sonic the Hedgehog
Fat Mario
Gay Luigi
Gnorris
Zelda
Goku
Piccolo
Red or blue: Heavy, Scout, Spy, Soldier, Demoman, Sniper, Medic and Pyro
Fari
Duke Onkled
Mario
Bosses from first to last:
Edit
Glukto
Giant hearthless Octorock
Goronu
Patrick Star
Hearthless Fish
Moat Krabs
Scratch & Grounder
Dr. Robotnik's Pingas of Destruction #1
The Koopalings
Bowser
Tyrannosaurus Alan
George Volcano
Hearthless Fake Weegee
Dr. Rabbit
Dr. Robotnik's Pingas of Destruction #2
Tomo Takino
Hearthless Monster Book
Harlequin
I.M. Meen
Hearthless Beast
Gaston
Crazy King Harkinian
Fari
Ansem
Piccolo
Oozaru Gohan
Hearthless Saibamen
Nappa
Vegeta
Oozaru Vegeta
Big Sentry
Hearthless Spy
Painis Cupcake & Vagineer
Dr. Robotnik's Pingas of Destruction #3
Duke Onkled
Toon Koopalings
King Koopa
Hearthless Coppercab (Ginger with no soul)
Dr. Robotnik
Ganon's Nobody
Weegee (Final Boss)
???? (Secret Boss)
Unlocking Harkinian Mode
Edit
Ad blocker interference detected!
Wikia is a free-to-use site that makes money from advertising. We have a modified experience for viewers using ad blockers

Wikia is not accessible if you've made further modifications. Remove the custom ad blocker rule(s) and the page will load as expected.