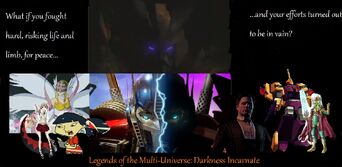 LOTM: Darkness Incarnate is a "What If" story created by 22kingdomhearts and Whovianfan.
Angewomon had defeated Megatron and brought peace all over the Multi Universe. But peace sometime's never lasts as new villains had out no where begun rampaging all over.
A large group of humans have banded together and seek to destroy all non-humans in the Multi-Universe. And a group a aliens have joined together and seek to destroy human kind.
While that's going on dispite losing Megatron The Decepitcons have not given up on their conquest.
And worse yet an old yet very powerful evil returns. Unicron. He returns to life in Megatron body. Using Megatron as a vessel Unicron has gathered his Heralds and seek to send the Multi-Universe into complete total darkness.
Will our heroes be able to stop these villains?
Main Characters
Edit
Maka Albarn
Lizbeth
Angewomon
Major Characters
Edit
Optimus Prime
Bulkhead
Bumblebee
Arcee
Ratchet
Ultra Magnus
Wheeljack
Smokescreen
Kratos
Bender
Fairy Leviathan
Death The Kid
Liz
Patty
Zero
Ciel
Commander Shepard
Crona and Ragnarok
Deimos
Athena (God of War)
Ares (God of War)
Slade
Anti Cosmo
Skipper
Heloise
Soul Eater Evans
Dib
Mickey Mouse
V
Alucard
Twilight Sparkle
Starfire
Jorgen Von Strangle
Phineas Flynn
Isabella Garcia Shapiro
Linkara
Oswald the Lucky Rabbit
Bubbles
Boomer
Nina Cortex
Black☆Star
Tsubaki Nakatsukasa
Blue The Raidramon
Protoman
Magneto
Terra
Patch
Collette
Unicron
Unicrons Heralds
Blitzwing and the Decepticons
Kane (Command and Conquer)
Sovereign and Harbinger
Hal 9000
General Tor
The Illusive Man
Dr.Weil
Zeus and his gods
New Characters
Edit
Sheogorath
Haskill
Deadpool
The Clashing Tide
The Crawler
Ad blocker interference detected!
Wikia is a free-to-use site that makes money from advertising. We have a modified experience for viewers using ad blockers

Wikia is not accessible if you've made further modifications. Remove the custom ad blocker rule(s) and the page will load as expected.