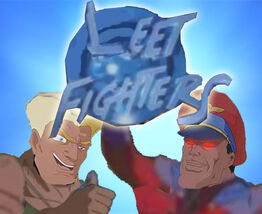 Leet fighters is a based of series,The Frollo Show,by chincherrinas.
A world where Guile and Bison were friends (less frienemies).
Characters
Edit
Toon Barlog
Konata (killed and ate by Guile and Bison)
Tsukasa (killed and ate by Guile and Bison)
Matt
Xbox 360 (Destroyed)
Toon DeeJay
Toon Honda
Nicolas Cage
Stocking
Panty
Mephiles the Dark
Best Leo
Best Scarecrow
Cobra Commander
Destro
Yakuza Gaston or "Gatou" (Gaston's Japanese cousin)
Madoka Kaname (Episode 5)
Homura Akemi (Episode 5)
Ronald Mcdonald (Episode 6)
IB
Scanty (Ep2 Intro)
Kneesocks (Ep2 Intro)
Toon Blanka
Gaston
Mikuru
Ad blocker interference detected!
Wikia is a free-to-use site that makes money from advertising. We have a modified experience for viewers using ad blockers

Wikia is not accessible if you've made further modifications. Remove the custom ad blocker rule(s) and the page will load as expected.