Male
Lelouch vi Britannia
Female
Sachi Komine
Male Age
17
Female Age
15
Male Voice
Jun Fukuyama (Japanese), Johnny Yong Bosch (English)
Female Voice
Ai Shimizu (Japanese), Unknown (English)
Hugs
Currently unknown
Kisses (Cheeks & Forehead)
Currently unknown
Kisses (Lips)
Currently unknown
Almost Kisses
Currently unknown
Episode Met
A Selfless Person With Selfish Needs (Cross Rumble)
Episode started loving
Love Blossoms (Cross Rumble)
Rivals

Lelouch's Rivals:

Sachi's Rivals:

Alias

LelouSachi

Series Involved

Code Geass: Lelouch of the Rebellion/Grisaia no Kajitsu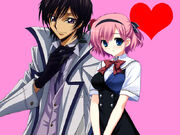 Lelouch vi Britannia and Sachi Komine are one of the two main couples in IchokaSuzumi666's upcoming crossover series, Cross Rumble.
Ad blocker interference detected!
Wikia is a free-to-use site that makes money from advertising. We have a modified experience for viewers using ad blockers

Wikia is not accessible if you've made further modifications. Remove the custom ad blocker rule(s) and the page will load as expected.