Minion & Rabbid with the Side of Raving-ness
is a series made by YTPguy17. It was supposed to be like The Frollo Show. It features Dave the Minion (from Despicable Me) and Mr. Rabbid (from Rabbids) in crazy situations such as shopkeepers (Zelda CDi), talking veggies (VeggieTales), robotic police inspectors (Inspector Gadget), and Cranky Kong, that cranky ape. (Donkey Kong Country)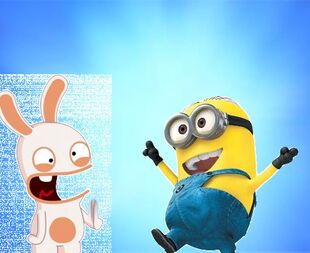 Characters
Edit
Dave the Minion (from Despicable Me)-The protagonist of the show.
Mr. Rabbid (from Rabbids)-The deuteragonist of the show.
Felonius Gru (from Despicable Me)-The minions' leader.
Minions (from Despicable Me)
Rabbids
Cosmo the Seedrain (from Sonic X)-Dave's crush. As you can see, he thinks she's hot because of her appearance and stuff.
Bob the Tomato (from VeggieTales)
Larry the Cucumber (from VeggieTales)
Supporting
Edit
The Worldwide Grus-Gru's worldwide cousins (ex.: Ross Gru is from Germany).
Cranky Kong (from Donkey Kong Country)-A cranky old ape that rants.
Mort the Grey Minion (OC)-A lazy and grey minion.
Inspector Gadget
King Dedede & Escargoon (from Kirby: Right Back at 'Ya!)-The minor villains of the show.
Morshu (from Zelda CDi)
Ushrom (from Zelda CDi)
TBA
Don't delete episodes you didn't create.
Each season must have 30 episodes.
Even though this is a TV-14 show, do not go to far with the descriptions
Episodes that have a swear in it, must have the swear censored.
No vandalism.
Have fun!
TBA
Writer: MegaToon1234
Writer:
Writer:
Writer:
Writer:
Writer:
Writer:
Writer:
Writer:
Writer:
Writer:
Writer:
Writer:
Creator: YTPguy17
TEH IDEA CORNER
Edit
YOUR IDEAS GO HERE!
Ad blocker interference detected!
Wikia is a free-to-use site that makes money from advertising. We have a modified experience for viewers using ad blockers

Wikia is not accessible if you've made further modifications. Remove the custom ad blocker rule(s) and the page will load as expected.