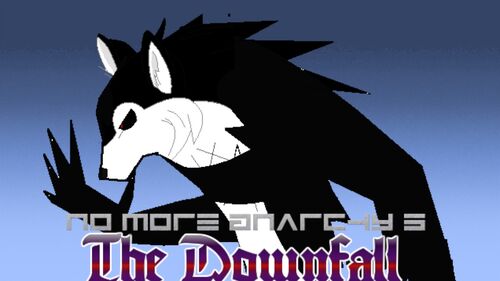 No More Anarchy 5: The Downfall is a sequel to the past 4 games created by StevenStar777. 
Throughout the three regions, power is growing too strong and numerous for the realms to handle. The warriors' powers threaten to utterly destroy the fabric of the world These warriors clashed in a single battle royale that threatened to rip apart reality and bring about the apocalypse. Without warning, a pyramid rises from the ground, and the tip bursts into green aura, attracting the warriors' curiosity to see what it was. The many warriors fought one another to get to the top, while Sum revealed himself to them. The firespawn was created by the forced of evil to destroy as many fighters as possible in order to save the realms from Armageddon.
Same as the provise NMA's Games.
Story Mode
Arcade Mode
Vs. Mode/Multiplayer Mode
X Mode

Fatal 4 Battle
6-Way Pack
8-Way Pack
Team Turmoil
10-40 Men Battle Royale
Tournament Mode
Barton's Pyramid

Online
Customization Mode
Training Mode
Mini-Games
Options
Extras
Characters Roster
Edit
Adam Jackson
Aeon Belic
Agito90
Aisha Fortune 
Akari Toujo
Albatross
Albert Jones
Alvin Nickels
Andrew Star I
Andrew Stardrop
Armor Black Knight 
Batsu Ichimonji II
Barron Johnny Blade
Beth Steelguard
Billy Bobs
Bira
Black and RazorTeeth
Black the Hedgehog
BlackSpeed
Brendon Rugal
Bret Astronomanov
Bret Lester
Brian Mind
Britney Buzzer
Bruce Shador
Bruce BlazeStar I
Bruce BlazeStar II
Bruce Greyson
Bullard Rosser
Bunny
Captain Leo
Carly Sins
Casper Mista
Casey Wilson
Cinder
Charles Quotes
Charles Vesa
Chase Young
Chewie Hunter
Clawer
Clayton Derek
Clyde Alpha
Cody Bashma
Conner Jigsaw
Corey LeGumme
Cory Copper
Crow Anarchy
Cyclone
Danny Stardrop
Dave Rugal
Dave Stocks
Dee Dee II
Demtiri Blade

Destiny Anarchy
Didi Jams
Donato Strange
Donny Abodo
Drake Booker
Dray Dragon
Drex
Eddy Bodyhunger
Elizabeth Anarchy 
Elizabeth Valentine
Ellis Lostness
Erick Fangs
E.V.A.
Explander
Eyeless Jack
Father Texas
Felicia Jr. 
Fiona Blazela
Flint Clawer
Frederick Diamond 
Galus Halo
Gammabot
Garnett Storm 
George Anarchy
George Star
Gingka Storm
Golden Hokan
Greyson Rocks
Heather Sting
Hei Kazama
Henry the Sorcerer
Hercules Anarchy
Hexer Whipslash
Hugh Owain
Icy Steven
Jacob Futrell
Jacob Marks
Jack Majikina
Jack the Hedgehog
Jacker the Demon Robot
Jake and Chibi Neverland
James Adobo
Jason Mitchell
Jean Hunter
Jeff Goldbullet
Jen Poison
Jerrod the 2nd
Jessie Abyss  
Jimmy Jr.
Jonathan Pegasus
Joseph D. Francis
Judgement Day
Justin Sawday
Kanji Suzuka Jr.
Ken Silver 

Kenchia
Kenji Irvin
Kevin Aero
Kevin Lifeness
Kevin Jr. 
Knight Blazefire
Kurt Anarchy
Kyosuke Ichimonji
Layla the FoxShunk 
Leo Irvin
Leone Alpha
Lester Lostness
Levin Madness
Lisa Brooke
Lloyd Arcs
Locus Blazefire
Londen Donnel
Lucas Windblade
Lucky Knife
Lucy Star
Luke Hunter
Marco Mirolli
Masazo and Yu Katagirl 
Mason Greens
Master Noriaki
Matt Breaker
Max Waker
Maxie Waker
Maxwell Sins
Midas Blazefire
Mino
Mist
Nathan Perry
Nick Wolf
Macintosh
Oilver Creed 
Oscar South
Patricia the Shunk
Peter Dunbar
Phillip Dendsuki
Plus Black and Minus White
Queen Alley Vesa
Rachael Star I
Rachael Star II
Ralph Star
Raph Irvin
Rash Polter
Razor Blazefire
Red and Dragonbeast
Ritcher Blazela
Robert Young
Robin Flame

Rorek the 2nd
Rosa Anarchy
Rosie Rugal
Roxie Nickels
Ruby Sunshine  
Sapphire Fountain
Saya Summer
Sazh Snow
Simon Blazefire
Shad Irvin
Shadow Ace Grunt
Shadow Clockstopper
Skip Neverland
Stancer
Starla
Stephanie BlazeStar
Steve Caraway
Steve the Warrior
Steven Jr.
Steven Star
Steven the Third
Stockgil
Stocking Fangs
Stockny Gat
Taiquin
Taylor Melody
Taylor Shocks
Thomas Francis
Timmy Flutters
Thunder
Tom Smith
Toshi Yoshida
Trace Sky
Travis Flame
Turbo Fighter: Orton
Tyson Spencer
Ultimate Blade
Unknown Lester
Vegas von Bluster
Venis Trouse
Vladuim Twilight
Vivi Lars 
Wally Ryan
Wasp Garmedon
Wayne Crasher
Wheatley Jacob
Xavier Cass
Yang the HedgeShunk
Yen'fay
Yikiko Hirose
Zack Blazefire
Zack Crocker
Zeus and Cory Anarchy 
DLC Packs
Edit
One More Era
Edit
Ralph ScissorStar
Fiona Fly
Alex Vesa
Disaster
In Memorial of the Lost
Edit
Rosa Star
Wakong
Crocaspider 
SkullHead

Neolordkefka
King Midas the 2nd
Yoshi Irvin
Hectare Blazela
Dave Rugal's Return
Edit
Eli Vetallica
Leonard Harrison
Aaron Larry
Natalie Honeydew

Daniel Heath
Gade Roper
Frankie Fiery
Tyler Brooks
Regal Zombie
Edit
Tommy Paige
Scotty Dela
Milena El
Doug Lee

Snake Rock
Jack Radio
Simon Hunter
Komiku Wong
KON
Nathan Sadertooth
Alex Rotunda
Arnold Rolfes

MC Crusher
Wolf Reaper
Crimson Knox
Wiz Banana
Royal Blood
Edit
Masaki Donnel
Robby Cass
Lloyd Blazefire
Mike BlazeStar II
Hectare City (Andient, Classic, Modern)
Pyrrha's Harbor
Lost Forest
Core Base
B.W.M. Arena
Titan Volcano
Shadow World
Into the Darkness
Hectare's Highschool
Kingdom of Passionate 
Ruined from New Order
School of Heaven
Mall of Chaos
Icy Steven's Castle
Dusk Street
Dragons over Space
Judgement Tower
Hilda's Mountain
Big Ben
Blackheart's Ship
Battlefield in the Future
Cyber War Street
Dead End Town
New World of Sum
Yeager Train Station
Deadly Water Path
Rockstar World
Budge of Pillars
The Tower of Sum (NPC/DLC) 
Beach Scramble (DLC)
War Zone (DLC)
Training Base
Main Menu Soundtrack
Edit
Welcome Home (Coheed And Cambria) *Opening Theme*
Finally (TRUSTcompacy) *Main Theme*
Green Day - I Walk Alone
Miracle (Shinedown)
Open Your Eyes (Alter Bridge)
Destroy the Obvious (Evans Blue)
Rebirthing (Skillet)
Worlds Away (From First To Last)
Fractured (Taproot)
All I Want (A Day To Remember)
Word Up (Korn)
Carnivore (Starset)
Sweet Child O' Mine (Gun N' Roses)
Same Old Trip (Chevelle)
So Cold (Breaking Benjamien)
The Sweet Escape (Gwen Stefani ft. Akon)
Worth Dying For (Rise Against)
Reject Yourself (Killswitch Engange)
From Now On (Bleeker Ridge)
Find Your Love (Drake)
Irresistible (Fall Out Boy)
Matter Of Time (Cartel Chroma)
I Will Remain (The Veer Union)
Bring Me To Life (Thousand Foot Krutch)
Race Against Myself (The Offspring)
Walk Away (Five Finger Death Punch)
My Sacrifice (Creed)
See You Again (Wiz Khalifa ft. Charlie Puth)
Ad blocker interference detected!
Wikia is a free-to-use site that makes money from advertising. We have a modified experience for viewers using ad blockers

Wikia is not accessible if you've made further modifications. Remove the custom ad blocker rule(s) and the page will load as expected.