Raffi Rodriguez is a cool/good-looking guy of school.Former Love interest of Birch.
Personality
Edit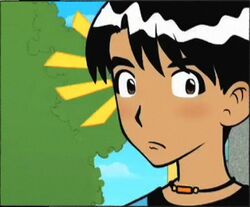 Often considered the coolest guy in school he often gets chosen for events and fund raisers much to the jealousy of other males such as Liam. He is often concerned about his looks and often expresses that as his only concern at times. He's shown to care for Birch considerably, whether or not he reciprocates Birch's feelings has yet to be shown. One of the ways the official website has described him as, "would drive anyone crazy if he wasn't so darn nice". He is scarily good at yoga ("Star-Struck").In Rise of Exile, He still a coolest guys at school (or less). He became friends of Ace and Birch and he has a crush on Sandra.
Appearances
Edit
Relationships
Edit
Birch Small (Friend)
Liam Coll
Ace Marshall (Good friend)
Ray Sully
Jessie Fillgrim
Love Interests
Edit
Birch Small (Former possible girlfriend)
Sandra le Blanc (Crush)
Ad blocker interference detected!
Wikia is a free-to-use site that makes money from advertising. We have a modified experience for viewers using ad blockers

Wikia is not accessible if you've made further modifications. Remove the custom ad blocker rule(s) and the page will load as expected.