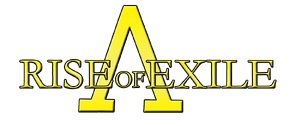 Rise of Exile is a American/Canadian-French animated television series created of My Life Me. This series was followed by a New Protagonist,Ace Marshall.when He was born from unknown to the wood who saved by a man with 'Wings'. Since He was founded by his Adoptive Parents. 17 years later, After he left Military camp, Ace has to go to new school called Cosmos high. He had lot to studys with new friends, Birch,Raffi,Liam ,Sandra (From My life me), Ray & Jessie. But this world things gonna following strange thing to happened.
Main Characters
Edit
See also: List of Rise of Exile characters/Gallery
New Characters
Edit
Ace Marshall (Male Protagonist)
Roland Partson (appears in season 2)
Characters from My life meEdit
Supporting Characters
Edit
Mr. Towes - After Mr. Jones was missing, Mr. Towes replace Mr. jones and is the direct opposite of him
Principal George Haller (New character)
Amelia - She is now hall moniter alongside with her 3 sickkicks and less popular.
Emily Marshall - Ace's adoptive younger sister.(New character)
Kelly Marshall - Ace's adoptive older sister.(New character)
Mr. Jones - a Rude teacher.(New character)
Yoko Asumaka (New character)
Ronald Adams (New character)
Tommy Wiseau (Coming Soon)
Greg Sestero (Coming Soon)
Main Article: List of Rise of Exile Episodes
Soundtracks
Edit
Theme song:- Linkin Park - What We Don't Know
Episode 7 theme song: Beckii Cruel - DANJO
Ad blocker interference detected!
Wikia is a free-to-use site that makes money from advertising. We have a modified experience for viewers using ad blockers

Wikia is not accessible if you've made further modifications. Remove the custom ad blocker rule(s) and the page will load as expected.