Ritsu Tainaka
(田(た)井(い)中(なか) 律(りつ) Tainaka Ritsu) is a drummer. She proclaims herself as the president of the light music club.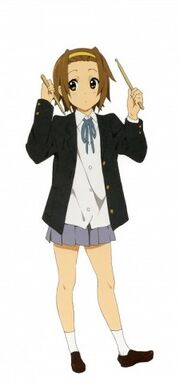 Name: Ritsu Tainaka
Age: 16-18,26 (Mojo Hojo Rumble),29 (Mojo Hojo Saviors),31 (Mojo Hojo: the Movie)
Gender: Female
Occupation(s): Student
Abilities: Drmmer
Relatives: Satoshi (Younger brother),Ishamie Tarker (step son)
Allies: Yui,Mio,Tsumugi,Azusa,Rex,Sawako & more...
First Appearance: Dissolution! (K-On!)
Theme:Gumi - Mozaik role
Personality
Edit
She has an ambiguous yet upbeat personality, but often has trouble remembering important club activities and announcements, and gets constantly yelled at and wacked by Mio after forgetting to send in important forms concerning the club even though often reminded by Nodoka . Ritsu is cheerful, often likes making jokes and is sarcastic most of the time. She usually brainstorms for ideas to earn more money and for the club's success. She has known Mio since elementary school and often teases her whenever she is cowering from somethingand has the opportunity to do so. Ritsu is always on the go and will stop at nothing for the success of the light music club.
Appearance
Edit
Courage the Cowardly dog 2.0
Harvey Birdman back in Business
Project Z Zone - partner with Mr. Bean
Ad blocker interference detected!
Wikia is a free-to-use site that makes money from advertising. We have a modified experience for viewers using ad blockers

Wikia is not accessible if you've made further modifications. Remove the custom ad blocker rule(s) and the page will load as expected.