Sandra le Blanc is a huge skateboarding fan, and a highly athletic girl.
My life Me
Edit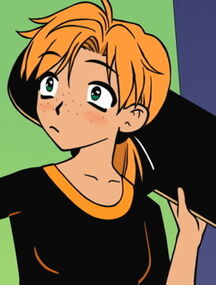 She is a pretty big daredevil who likes to take dicks to the extreme, such as recruiting volunteers to lay down in front of her as she jumped over them with her skateboard ("A Fine Balance"). She is very devious and has a somewhat sadistic personality, as she will often attempt to earn the discomfort and embarrassment of others for her own entertainment. She is seen often trying to get others, including members of her "pod", to get angry at each other for fun. Sandra is said to have gone through a "geek phase" ("Liam the Hero"), and denies her secret want to become a cheerleader ("The Pom Pom Girl"). Although she does have her nicer moments, she is often seen, and known for, her really mean personality.
After My life me & Before Rise of Exile
Edit
4 years later, She was no longer a huge fan of skateboarding.
Appearances
Edit
Relationships
Edit
Ace Marshall (Friend)
Birch Small (former Friend to fremeny)
Liam Coll (Friend)
Raffi Rodriguez (Close Friend)
Jessie Fillgrim(Friend)
Ray Sully (Friend)
Love InterestsEdit
Edit
Raffi Rodriguez (possible)