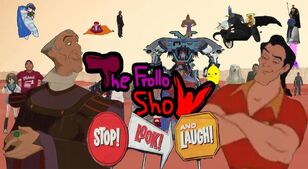 The Frollo Show: Stop! Look! and Laugh! is a feature-length The Frollo Show compilation featuring Frollo and Gaston. Eleven of the Frollo Show were shown and bridged together with segments featuring Bridal Shotacon and other Lawlers.  
Bridal Shotacon grew very bored, attempt to bring back his Lawl spin-off back to life. Shotacon relates stories that segue into scenes from The Frollo Show episodes with the film concluding with a loud party that is footage from Frollo Gets Flashed by a Gothic Lolita. Bridal Shotacon is left with his clothes reduced to rags in that sequence's Operation "Flashy Fight". It is in that moment that Shotacon's breaking point at having endured the torture of whole TFS cast has finally been reached, and Shotacon bursts into tears and runs outside to the Smash Bros. Lawl stadium. She throws himself onto the and begins sobbing at the apparent loss of his dreams, feeling unable to continue his job. Shotacon puts his pistol in to his mouth and died.  
Chracters
Edit
Frollo - TBA
Gaston - TBA
Bridal Shoacon - The Protagonist of Lawlers segments.
Chincherrinas - cameo
Nostalgia Skapokon - cameo
Agito90 - cameo
Featured shorts
Edit
The following eleven episodes of The Frollo Show were featured in Stop! Look! and Laugh!:
Frollo Faps to a Firefighters calendar
Frollo Reads Mein Kampf
Frollo Gets AIDS
Frollo Sees Dead People
Frollo Misses his Mother
Frollo Tries to Get Laid
Frollo Beats Up Evil Residents
Frollo Gets Interrupted by Hitler
Frollo Enters a Mexican Contest
Frollo Fucks the Gods
Frollo Gets Flashed by a Gothic Lolita
Idea from The Movie: Stop Look And Laugh With Paul Winchell Jerry Mahoney and KNUCKLEHEAD and Moe Larry and Curly (The Three Stooges)
See also
Edit
Ad blocker interference detected!
Wikia is a free-to-use site that makes money from advertising. We have a modified experience for viewers using ad blockers

Wikia is not accessible if you've made further modifications. Remove the custom ad blocker rule(s) and the page will load as expected.