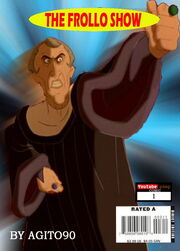 The Frollo Show is the first Issue comics. It has 5 chapters. Based on YTP Series, The Frollo Show.
Frollo wants Burgers
Edit
At the Good Burger fast food, Frollo is ordering a Burger. But he is waiting for a whole hour.
Frollo's plans to make Stocking with Tom
Edit
Tom falls in love with Stocking, but she rejects him because she has her own Love interest with Frollo.Tom wants to help him to make Stocking will have a relationship with Tom, and Frollo accepts to help him.
Frollo's Perfect girl
Edit
Frollo has a dated.
Frollo The substitute teacher
Edit
Frollo has a job as Substitute teacher at Cosmos High School.
Characters
Edit
Ad blocker interference detected!
Wikia is a free-to-use site that makes money from advertising. We have a modified experience for viewers using ad blockers

Wikia is not accessible if you've made further modifications. Remove the custom ad blocker rule(s) and the page will load as expected.