Timmy Turner



Age

10 (FOP)
16-17 (Vengeance)

Gender

Male

Occupation(s)

Student
Adventurer
T.T.C.A.R members
Sickkick (Formerly)

Abilities

Godparents helper (Formerly)
Bloody V

Relatives

Turner's Familys
Cosmo (Former Godfather)
Wanda (Former godmother)
Poof (Former Godbrother)
Tootie (Girlfriend/future wife)
Tommy Turner (future son)
Tammy Turner (Future daughter)

Allies

Remy
Chester
A.J.
Mark Cheng
Jimmy Neutron
Billy
Mandy
more...

Theme

Timothy Tiberius "Timmy" Turner is a ten year old boy who is the main character of the The Fairly OddParents alongside his fairy godparents, Cosmo and Wanda. He is described by the show's theme song as "an average kid that no one understands". Timmy's parents, known as Mom and Dad, are neglectful of him and sometimes leave him under the care of his mean babysitter, Vicky. Because of this constant ignoring by his parents and Vicky constantly making him miserable, Timmy was granted two magical fairy godparents, Cosmo and Wanda, and then later on a fairy godbrother, Poof, whom he wished for. In Agito90's worlds, After he lost his fairy godparents and godbrother, Timmy has his own weapon,Bloody V unknown as "Vengeance". He is now 16 (later 17 in season 2) year old who is still a main character of Vengeance alongside with his friends,Tootie,Chester,A.J. & Remy to kill the demon and save their own lifes. Timmy can fight without his former godparents by himself.
Personality
Edit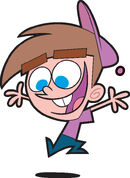 The Fairly OddParents]
See also: Timmy Turner (from Original world)
Aftermath(Alternate)life (for The FOP) and Early begin (for Vengeance)
Edit
At fairy hall,Jorgan decide Timmy and Remy are not become a godchildren are no more. He felt upset without his Fairyodd parents. Later, His parents decide to move to the other town and leave Dimmsdale.
6 years later, A world has changed. Timmy transfer the other school until he found out they were demons in this town. But, After his right hand cut off and became a Bloody V (with his right hand). If his touch his own right hand, it can transform into a weapons. After battle, Timmy leaves town to had back his hometown, Dimmsdale.
Appearances
Edit
Relationships
Edit
Timmy's mon (it's reveals is Rebecca or not)
Timmy's dad (It's reveals is Frank or not)
Chester
A.J.
Remy (Former enemy)
Mark Chang
Sanjay
Elmer
Love Interests
Edit