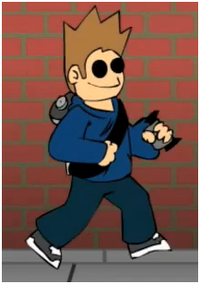 Thomas "Tom" Ridgewell is a main character in Eddsworld, who is inspired and voiced by Tom Ridgewell (although voiced in earlier episodes by Alex Labbe, and voiced by Edd in his first appearance). Tom's character is known for having a blue hooded sweatshirt, no eyes (but vision), he loves kittens, (kitten shopping), large spiky hair (which he called "Steve" in Moving Targets) and a round, spherical head. He is shown to be the smart and funny one out of the three.
See Also: Tom
Appearances
Edit
Eddsworld/Ed,Edd ' N' Eddy HighSchool in Interverse
Tomsworld (Main Character;Protagonist)
Relationships
Edit
Love Interests
Edit
Ad blocker interference detected!
Wikia is a free-to-use site that makes money from advertising. We have a modified experience for viewers using ad blockers

Wikia is not accessible if you've made further modifications. Remove the custom ad blocker rule(s) and the page will load as expected.