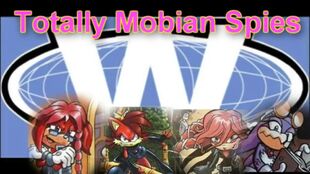 Totlally Mobian Spies is an ongoing story that takes place after The Great Time Travel Adventure and during the Great Summer Season Trek. This is a story and spinoff that focuses on The girls on The V Team as opposed to Eddy. There are 4 parts up so far.
Characters
Edit
Eddy
Applejack
Pinkie Pe
Rarity
Fluttershy
Rainbow Dash
Jerry
The Sly Cooper Gang
Melrida
Frost
Iron Queen
Mecha Sally
Queen Chyrstalis,
Hugo Brass ,
Red Skull ,
Count Dooku ,
Ghetisis
Professor Calamitous
Solidius Snake
Nemesis
Some members of the B Team will not rejoin Bender as he will sent them on duties but new characters will join them as well for this
This really takes place around the end of The Great Summer Season Trek and goes on after it
Ad blocker interference detected!
Wikia is a free-to-use site that makes money from advertising. We have a modified experience for viewers using ad blockers

Wikia is not accessible if you've made further modifications. Remove the custom ad blocker rule(s) and the page will load as expected.