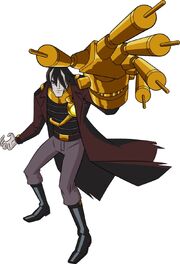 Van Kleiss is the leader of the Pack and Abysus. He wants to take over the world and start a new era for E.V.O.-kind. To help him accomplish this, he has formed a dangerous group of E.V.O.s called the Pack. He claims to know all about Rex and his past, a fact he often uses to try to persuade Rex to join his cause.
Name:Van Kleiss
Age: Unknown
Gender: Male
Occupation(s):The Pack/Abysus
Abilities:Can drain nanites from E.V.O.s (Can create E.V.O.s,Can fire razor-sharp needles from his bio-mechanical hand)
Relatives: N/A
Allies:Biowulf, Breach, Skalamander,Noob Saibot,more...
First Appearance: The Day That Everything Changed (Generator Rex)
Theme: The Word Alive - Heartless[http://www.youtube.com/watch?v=i1VBSi-y05A ]
See also: Van Kleiss
Appearance
Edit
Ad blocker interference detected!
Wikia is a free-to-use site that makes money from advertising. We have a modified experience for viewers using ad blockers

Wikia is not accessible if you've made further modifications. Remove the custom ad blocker rule(s) and the page will load as expected.