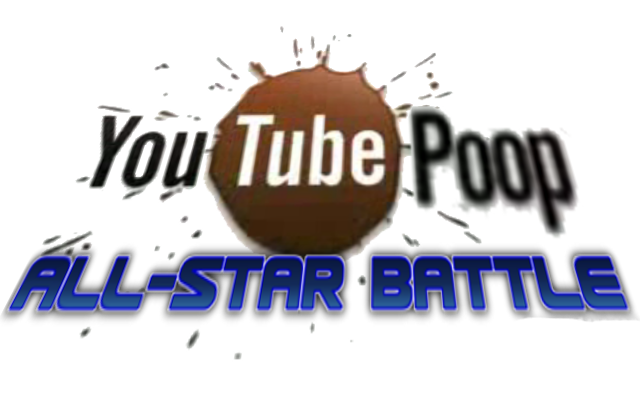 YouTube Poop All-Star Battle is a 3D third-person fighting game developed and published by MP6. It was released for Wii U, PS3, Xbox 360, and Steam. A F2P port (YouTube Poop All-Star Battle: Free4Brawl) was released for Ouya.
YTPASB Engine
Edit
The engine was the modified version of S4 League. The makers of YTPASB removes stuff like weapons. They add their own stuff (mix-up of Smash Bros., Street Fighter, and Tekken).
TBA
Characters
Edit
CD-I Universe (Zelda CD-i/Hotel Mario)
Edit
King Harkinian
Link
Zelda
Ganon
Mario
Luigi
Princess Toadstool
Spongebob Universe
Edit
Spongebob Squarepants
Patrick Star
Squidward Tentacles
Sandy Cheeks
Plankton
Adventure Time Universe
Edit
Finn
Jake
Ice King
Flame Princess
AoSTH Universe
Edit
Sonic the Hedgehog
Miles "Tails" Prower
Dr. Robotnik
Scratch
Grounder
Sonic X Universe
Edit
Knuckles the Echidna
Amy Rose
Shadow the Hedgehog
Cosmo the Seedrian
Chris Torndyke
Total Drama Universe
Edit
Duncan
Courtney
Gwen
Owen
Izzy
Lightning
Regular Show Universe
Edit
Mordecai
Rigby
Magaret
Eileen
Disney Universe
Edit
Frollo
Gaston
Mickey Mouse
Osward
Team Fortress 2 Universe
Edit
Scout
Soldier
Pyro
Demoman
Heavy
Engineer
Medic
Sniper
Spy
The Amazing World of Gumball Universe
Edit
Gumball Watterson
Darwin Watterson
Ed, Edd n Eddy Universe
Edit
Ed
Edd
Eddy
Kevin
Nazz
Rolf
Other Universe
Edit
Angry Video Game Nerd
Nostalgia Critic
Irate Gamer
Best Hercules
Panty
Stocking
Toon Bison
I.M. Meen
Silver the Hedgehog
Blaze the Cat
Zoolander
Hank Hill
Timmy Turner
Yoshi (Super Mario World cartoon)
Original Universe
Edit
Cpend7
John
Agito90
Lydia Prower
Gannon X
Redlime Sonic
MP6 Universe
Edit
Takira/Faiz Rider
Rento/Kaixa Rider
Daisuke/Delta Rider
Red Strikeforce Ranger
Blue Strikeforce Ranger
Yellow Strikeforce Ranger
Green Strikeforce Ranger
Pink Strikeforce Ranger
Silver Strikeforce Ranger
Purple Strikeforce Ranger
Black Strikeforce Ranger
Crimson Strikeforce Ranger
Navy Strikeforce Ranger
Cyber Arena (default arena)
King's Castle (CD-i)
Camp Wawanakwa (Total Drama)
Cul-De-Sac (EEnE)
Robotnik Lab (AoSTH)
2fort (TF2)
Bikini Bottom (Spongebob)
High School (YouTube Poop Faiz)
Free4Brawl (Ouya)
Edit
This port is free-to-play. You will get more stuff on DLC shop.
Ad blocker interference detected!
Wikia is a free-to-use site that makes money from advertising. We have a modified experience for viewers using ad blockers

Wikia is not accessible if you've made further modifications. Remove the custom ad blocker rule(s) and the page will load as expected.