Yu Narukami
[[

|250px]]


Age

17 start, 18 in Persona 4 Arena/Epilouge of Persona 4 Golden

Gender

Male

Occupation(s)

Student
Adventurer
Detective
daycare assistant
hospial janitor
tutor

Abilities

Persona user
Basketball skill
Origami

Relatives

unknown Parents
Nanako (cousin)
Ryotaro(uncle)

Allies

Yosuke,Chie,Yukiko,Teddie,Kanji,Rise,Naoto,Team Scott,more...

Theme

Reach Out to the Truth
Yu Narukami is the Protagonist of Persona 4. He begins the game by moving to Yasoinaba. Similar to Tatsuya Suou of the Persona 2 dualogy, he wields two-handed swords as his primary weapon. However, he is incapable of using alternative weapons, in contrast to the Protagonist of Persona 3. As the leader of the Investigation Team, the protagonist becomes deeply involved in the serial murder cases in the Inaba region shortly after arriving in town to live with his uncle.
Personality
Edit
Following with the tradition of the
Shin Megami Tensei
series, he is a silent protagonist (though, as with protagonist of Persona 3, he does technically speak when summoning a Persona), where his name and personality is decided and portrayed by the player's in-game actions and decisions. In
Persona 4 The Animation
, he is depicted as quiet and polite. He has a dry sense of humor, and sometimes does questionable things which he thinks are funny. He also seems a bit naive and oblivious to certain situations. Overall, Yu is much more livelier and a much more personalized character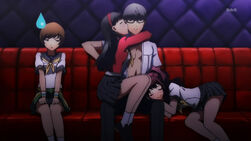 than his game counterpart. Before the awakening of his Persona, Yu seems to be emotionless and cold at times (as well as occiasionally deadpan). Afterwards, however, he is known to value the bond of friendship between the members of the
Investigation Team
and is highly concerned about his friends. Even obsessing over doing the King's game just like when he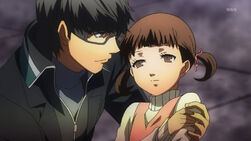 played it with investigation team during field trip of Port Island in
Episode 15
. He is shown that he will go through great lengths in order to help others like most of his Social Links. He even deeply cares about Nanako to save her after she was kidnapped by Namatame by going to the T.V world out of desperation. He especially gets depressed and loses hope that his Uncle doesn't believe him even though he told him everything of his actions with the Investigation Team.
Appearances
Edit
Alternate version
Relationship
Edit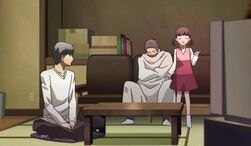 Family
Unnamed father and mother
Nanako Dojima- Cousin
Ryoutaro Dojima- Uncle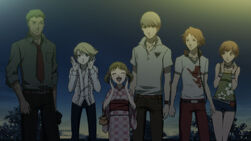 Investigation Group: Yosuke Hanamura, Chie Satonaka, Yukiko Amagi, Rise Kujikawa, Teddie, Naoto Shirogane
Persona 4 Social Links Characters: Kou, Daisuke, Ai, Naoki, Eri, Hisano, Sayoko, Yumi, Ayane, Margaret, Fox, Marie, and Shu
Persona 4 Arena: Aegis, Mitsuru, Elizabeth, and Akihiko 
Ad blocker interference detected!
Wikia is a free-to-use site that makes money from advertising. We have a modified experience for viewers using ad blockers

Wikia is not accessible if you've made further modifications. Remove the custom ad blocker rule(s) and the page will load as expected.